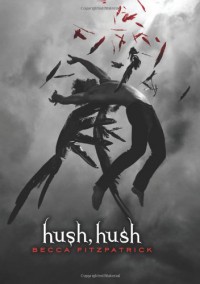 . Because I didn't really hate it like I should have. I'm just one big contradictory person, because whenever I've set out to love or hate a book, I usually end up feeling the opposite. I knew from the start of reading this book that I wasn't going to love it, but in the middle of it, I was just laughing at the ridiculous-ness of it all. And since I got a kick out of reading this, I may just have to attach that 0.5 star in there.
I've come to expect that this was a YA Paranormal book. It does feature a fallen angel. But three quarters of the book, it mainly felt like a teen psychological thriller. If that even exists. I guess, because I read The Mortal Instruments series, that I expected a lot of kick-ass fight scenes. There was, however, the slightly intriguing mystery (which I like) of who could want Nora dead. Apparently, almost all of the characters wanted her dead including her soon-to-be-boyfriend Patch. yeah!.
So it's not really more of a paranormal book, I guess, but a YA romance with paranormal elements. The romance, though, is the one that gave me the most kicks. Here's a straight A student, who has a dangerous attraction to a guy who could possibly be her stalker which, it turns out, he
was
. Nora knows absolutely zilch about this person, except that he's hot. So it's okay that he's a possible stalker and that he may have assaulted your best friend, because you have 'gut instincts' into the goodness of his heart, and besides, he's hot. Is it okay that in the middle of arguing about his dubious identity, you suddenly have the overwhelming urge to
kiss
him? Wtf? (I actually
enjoyed
hating this scene, though). It's just a story of pure, basic lust, passing off as
romance
. Blrugh. But what the heck, at least I got a kick out of it.
I could write a lot of paragraphs describing the mind-fuckeries in this book and waste another hour, or I could just end this review with a not-so-short message:
Would I recommend you to buy this? No. (So really, Borj, god why'd you have to buy this?!) Instead do what I did, and borrow from a friend. *Cackles*
Don't let mediocre authors get so much profit from a not-well written story. It was obviously written in such a way, that you need a sequel, to get the cash flowin, so.... Shame on authors and
publishers
who milk it.