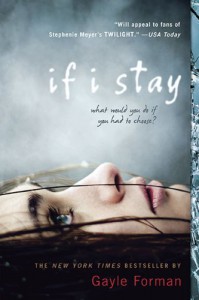 I actually find myself in the minority here, since I'm one of the [apparent] few who were relatively underwhelmed with this book. It's a pity, really, since I so wanted to like it because the book was given to me by my brother for my birthday. (In a way, I
did
like it. More on that later.)
If I Stay
is the story of 17-year old Mia, who loses her family instantly in a car accident, while she is "stuck in limbo", watching the after-effects of the accident, while reminiscing about her past, which will all ultimately affect her choice: Will she let herself live or die?
Sometimes I think there's something wrong with me, if I can't be touched by a book which everyone is just
raving
about, and that evoked
emotions
in them. I'm not a stoic person, no matter how much some of my friends insist I am. I've read [b:The Book Thief|19063|The Book Thief|Markus Zusak|http://d.gr-assets.com/books/1352395325s/19063.jpg|878368] for Pete's sake, and it
devastated
me. Other than that, there had been [b:The Wednesday Wars|556136|The Wednesday Wars|Gary D. Schmidt|http://d.gr-assets.com/books/1348254942s/556136.jpg|2586820], [b:Ain't She Sweet?|790144|Ain't She Sweet?|Susan Elizabeth Phillips|http://d.gr-assets.com/books/1347668874s/790144.jpg|2538], [b:A Walk to Remember|3473|A Walk to Remember|Nicholas Sparks|http://d.gr-assets.com/books/1344269407s/3473.jpg|3143497], and a handful of other books.
I still can't pinpoint what was off with it, and maybe I never will. Maybe it was the kind of wish-fulfillment I found in it. (I can't believe I have problems with wish-fulfillment, btw, since I'm a notorious daydreamer). The kind of family Mia has is something to envy, it's the kind I only see in movies. Not that I'm dissatisfied with my family. I honestly love them. I cannot imagine losing them.
But Mia's family - her father's an ex-band member who married her mother at a relatively young age because he preferred the idea of calling her "wife" rather than plain old "girlfriend". Her mother is a "tough as nails, tender as kittens feminist bitch". In short, her parents are
cool
. And her brother Teddy, well, he was adorable. Not only that, but Mia has a, dare I say, "perfect boyfriend". I personally don't prefer a guy like Adam Wilde so once again, I am in a minority, where almost everyone swoons over him. Even though I felt like I should sigh and be giddy with their courtship, I didn't. How, when I've read adorable couples in [b:Dairy Queen|16178|Dairy Queen (Dairy Queen, #1)|Catherine Gilbert Murdock|http://d.gr-assets.com/books/1347858197s/16178.jpg|564970] and The Darkest Powers trilogy?
Maybe I found it a little too perfect that I can't relate to the characters anymore. Maybe I've read way too many books that
If I Stay
pales in comparison. Maybe.
At most, I give this
2.5 stars
, because I loved the music angle. Lately I've been needing to find books which incorporate classical music in it. I confess I'm not a band person. Though there are bands I love listening to, I'm not an avid rock music fan like Forman apparently is.
What I loved was the classical music
. I will one day track down Mia's soundtrack! (The love of classical has all been [b:Nodame Cantabile |1261277|Nodame Cantabile 1|Tomoko Ninomiya|http://d.gr-assets.com/books/1320457824s/1261277.jpg|1250120]'s fault, a series I find quite close to perfect).
And even though this book was "just okay" to me, it doesn't diminish my desire to read [b:Where She Went|8492825|Where She Went (If I Stay, #2)|Gayle Forman|http://d.gr-assets.com/books/1347810457s/8492825.jpg|10706553]. I'm just so curious to read about Mia and Adam's breakup story. Plus, it means more music!